Mobile sensors for medical technology
Microtechnology structures in the size range of a few nanometers can generally only be manufactured with very complex high-end equipment, which for cost reasons is almost exclusively available to larger chip manufacturers. The equipment required to manufacture structures in the micrometer range, on the other hand, is available to a much wider circle of users. The FHV also has the corresponding equipment in the cleanroom laboratory of the Research Centre Microtechnology (FZMT).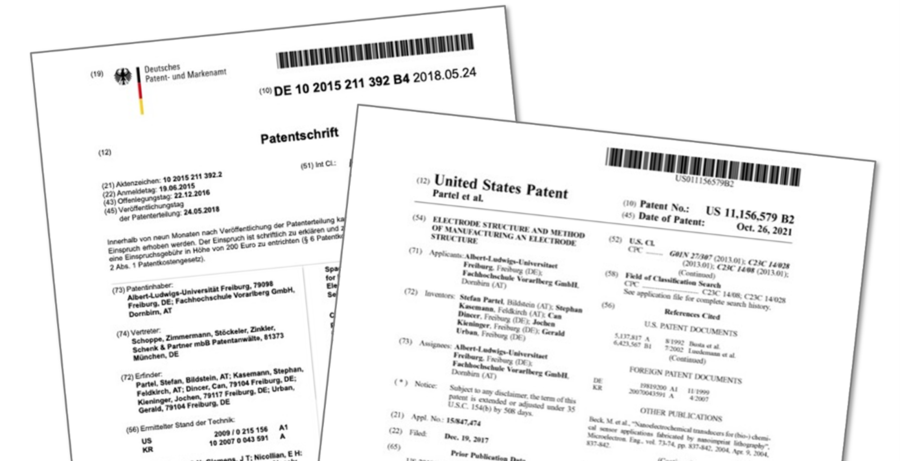 Already a few years ago, the research centre team developed a manufacturing process that, by exploiting some "clever tricks", makes it possible to reduce structures initially created in micrometer size to a size of less than 100 nanometers as the process progresses. This process makes it possible, for example, to dispense with some critical standard process steps in the manufacture of a wide variety of sensor structures. Scalability is also given with a view to cost-effective mass production.
Successful patent application
Together with the project partners from the University of Freiburg, the researchers from FZMT filed a patent application for the developed process in Germany and the USA in 2015. Due to the specified opposition and disclosure periods, a patent procedure always extends over several years from submission to grant. The researchers at the University of Applied Sciences used this time intensively to gain in-house expertise in the field of electrochemical life science and bio-sensor technology, and they successfully succeeded in establishing this diverse subject area as a research focus of the FZMT. The novel manufacturing process forms a central technological basis for this.
In 2018, the German Patent and Trademark Office honored the "clever tricks" by granting patent No. DE 10 2015 211 392. On October 26 of last year, the patent process now came to a conclusion with the granting of U.S. patent No. US 11,156,579 by the U.S. Patent Office.