Engineering and Management (WING)
Do you want to understand how technical progress, Business and Management success and social change interact? Do you love to think in an interdisciplinary way and solve challenges holistically?
As an industrial engineer, you'll coordinate many key operational interfaces involving technology, industries, cultures, and business models
In part-time studies in Industrial Engineering and Management, we promote networked thinking by integrating technical, business and personality-building content.
You will acquire the necessary competencies to operate successfully in a highly dynamic, intercultural and interdisciplinary environment.
Perspectives
As an Industrial Engineer, you will possess the technical, business and social skills to solve business issues holistically. These skills open up wide-ranging areas of responsibility that you can take on in leading roles, such as logistics, technical sales/product management, construction management, or management consulting.
Typical fields of activity - depending on the chosen specialization - include
SCM: resilient supply chain management:
Logistics and production planning
Procurement and materials management
PRM: sustainable product management:
Technical sales & distribution
Strategy, marketing and product portfolio management
BPM: digital construction and process management:
Factory planning, construction project management
Digitalization of construction processes
General professional fields of activity as an industrial engineer:
Project/change management
Organization and process management
Information management for corporate management
Access to further studies
The academic degree "Bachelor of Science in Engineering, BSc" gives you access to further master's studies at a university of applied sciences or university at home or abroad.
At the FHV, we offer master's degree programmes in Sustainable Energy Systems, Business Administration (with various specialisations), International Management and Leadership, Computer Science, Business Informatics and Mechatronics. This can be followed by doctoral or PhD studies at a university.
Study Projects
Golden Wing 2023 - The winners are announced!
In the 3rd semester of the bachelor's degree in Engineering and Management, our students can experience project management in the role of film producers and actors
Here is the creative winning team from the WING class of 2021.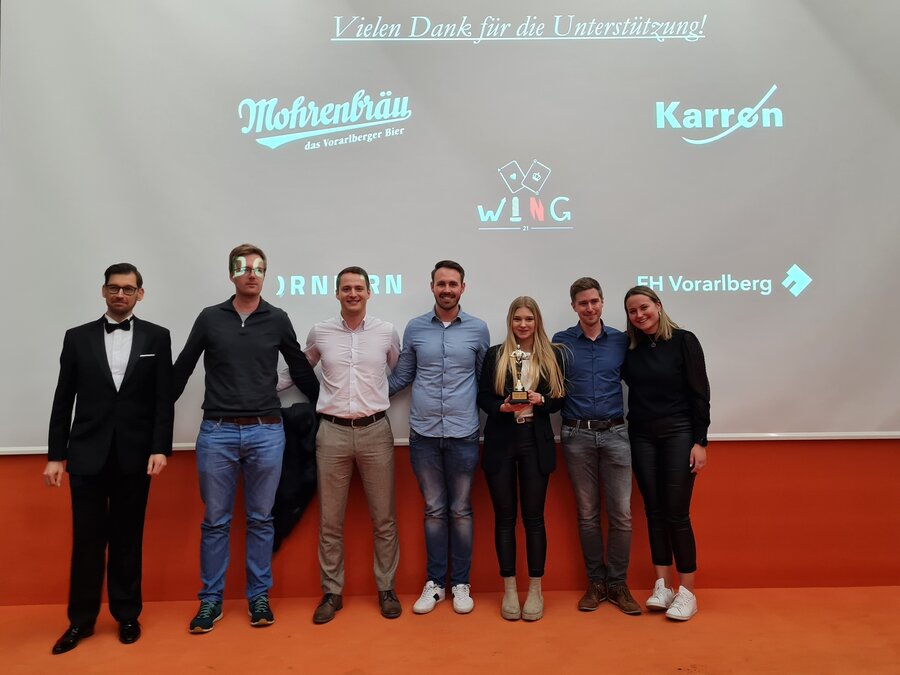 "It's brilliant that I can apply my knowledge directly".
Ileen Wiedemann is in her third semester of Engineering and Management and is able to further her education both theoretically and practically. She brings her expertise to bear in various departments at the food manufacturer Hilcona AG.
Ileen Wiedemann, Bachelor student Engineering and Management