Define your own media-related challenge
During your exchange semester at FHV you would like to study in the InterMedia programme? Then it is necessary that you define your own challenge to work on using different media technologies.
Design gains in importance when it proves to be helpful.
Design means to bring something into shape.
Design means to change something.
Design proves to be helpful when it supports our life and gives us security.
Design proves to be helpful when it enables us to exchange thoughts and emotions and to experience a community.
Design is an impulse within complex processes and is much more than just the creation of artefacts.
Nowadays design competences are needed in various fields. Therefore, students opt for one of these areas.
Choose one design area
interface and interaction design
multimodal spatial design (digital, analogue, hybrid)
cross media content creation and strategy
eco design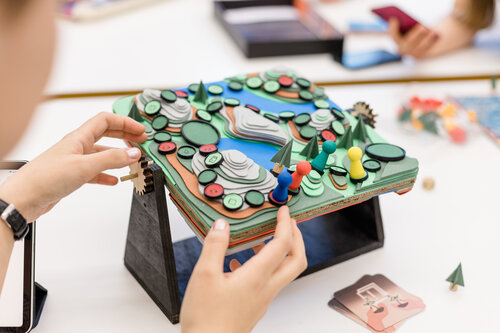 In the 4th semester, the focus is on experimentation and developing a concept for a possible media solution. To develop a solution for their individually defined challenge, students can experiment in our labs with different technologies like 3D animation, virtual or augmented reality, audio, photography, analogue image composition, interaction design/creative programming or text.
As variety of our courses are related to the chosen topic, it is also necessary for exchange students to define their individual challenge.
Challenges should be formulated as questions like these examples:
How does a website need to be further developed in order to be suitable for the elderly?
Which measures need to be taken in order to generate eco-friendly alpine tourism?
How can historical content be provided in a more intelligible way using new technologies such as augmented reality?
How can community activities be fostered in order to arouse enthusiasm for a cultural centre among young people?