Course offer in English
Master International Management and Leadership

Equip yourself for success by gaining expertise to navigate complex international challenges, lead intercultural teams, drive transformative change in organizations, and excel in coordinating diverse business areas.
Key data of the semester taught in English
| | |
| --- | --- |
| English course offer in | semester 2 |
| Mode of study | part-time* |
| Term | spring/summer |
| Duration | February - July |
*Within the the part-time International Management and Leadership Master's programme teaching takes place on Friday afternoon and evening and Saturday all day. As well as some online courses during the week. Contextual studies depending on the choice are held on Thursday evening or in block weeks.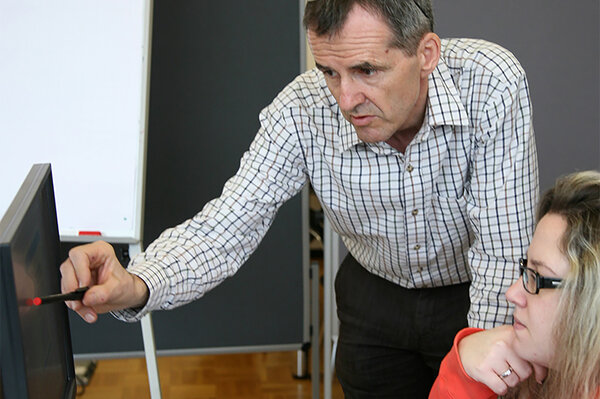 Prerequisites for incoming students
Bachelor's degree from a recognised Higher Education Institution.
Enrollment in a Master's programme in the home country at the time of the exchange semester.
Basic knowledge in any area of business (finance, HR, supply chain, marketing).
Minimum work experience in their field of educational background: 2 years full-time (internships excluded).
English at least Level B2.
Courses offered in English
Spring/summer semester 2024
Classes in the part-time degree programme International Management and Leadership are mainly held in blocked form or take place on Fridays from 2 p.m. to 10 p.m. and Saturdays from 8 a.m. to 5 p.m.
Contextual Studies
Students can choose up to 6 ECTS from the contextual studies programme, a module offer for master students and alumni of FHV which provides customized courses as part of the master's degree programmes.
Students who wish to enrol in contextual studies should be aware that these involve interdisciplinary teamwork with fellow students. Therefore, compulsory attendance for most classes is required.
The following contextual studies courses are avaialbe in English language during spring/summer semester 2024.
What are Contextual Studies?
German Language and Austrian Culture Courses
These courses are scheduled weekly and run over the full semester. It is only possible to select one German course.
During spring/summer semester 2024 the German courses are available for all exchange students. Because of scheduling conflicts students attending the Computer Sciences - Digital Innovation Bachelor (IDI) programme cannot chose the German courses. However, alternatively the course Exploring Austrian Culture and Values is open to IDI students. Students from other programmes can only register for Exploring Ausrian Culture and Values based on availability and if there are no timetable conflicts.