How long will my exchange semester at FHV last?
The academic year at FHV - Vorarlberg University of Applied Sciences is divided into two semesters:
Winter (= autumn/fall) semester
Summer (= spring) semester
Please note that the semesters of the Bachelor's programmes, which are offered entirely in English, sometimes have different semester terms than regular semesters offered in German.
The semester times of the Master's programmes are also different.
These different semester times are important for the organization of your exchange semester.
Examination periods are included in the given semester times. Some of them take place at the end of the respective semester during an exam week or during the semester. These can take place in oral and/or written form, as well as in the form of project work.
The actual semester duration also depends on the selected courses.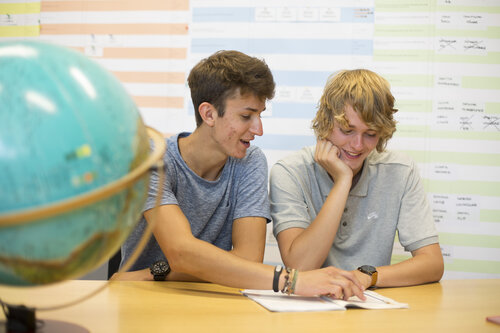 Academic calendar for exchange students 2023/24
Autumn/winter semester
Autumn/winter semester
| | | |
| --- | --- | --- |
| Expected arrival exchange students | | 16.08.2023 - 18.08.2023 |
| Welcome Week (compulsary attendance) | | 21.08.2023 - 24.08.2023 |
Bachelor's studies
International Business Bachelor
semester 5
25.08.2023 - 14.12.2023
Mechatronics Bachelor
semester 5
28.08.2023 - 22.12.2023
Electrical Engineering Dual Bachelor
semester 5
28.08.2023 - 22.12.2023
Computer Sciences - Software and
Information Engineering Bachelor
semester 5
28.08.2023 - 15.12.2023
Environment and Engineering Bachelor
semester 5
28.08.2023 - 15.12.2023
Master's studies
| | | |
| --- | --- | --- |
| Mechatronics Master | semester 3 | 30.08.2023 - 03.02.2024 |
| Sustainable Energy Systems Master | semester 3 | 15.09.2023 - 03.02.2024 |
Spring/summer semester
Spring/summer semester
| | | |
| --- | --- | --- |
| Expected arrival exchange students | | 15.02.2024 - 16.02.2024 |
| Welcome Week (compulsary attendance) | | 19.02.2024 - 22.02.2024 |
Bachelor's studies
| | | |
| --- | --- | --- |
| International Business Bachelor | semester 4 | 23.02.2024 - 21.06.2024 |
| InterMedia Bachelor | semester 4 | 26.02.2024 - 28.06.2024 |
| Social Work Bachelor | semester 4 | 28.02.2024 - 21.06.2024 |
| International Business Bachelor | semester 6 | 15.02.2024 - 28.06.2024* |
| Computer Sciences - Digital Innovation Bachelor | semester 6 | 26.02.2024 - 21.06.2024 |
Master's studies
| | | |
| --- | --- | --- |
| International Management and Leadership Master | semester 2 | 23.02.2024 - 06.07.2024 |
| Computer Sciences Master | semester 2 | 22.02.2024 - 12.07.2024 |
| Computer Sciences Master | semester 4 | individual** |
| Mechatronics Master | semester 4 | individual** |
| Sustainable Energy Systems Master | semester 4 | 23.02.2024 - 28.06.2024 |
| Social Work Master | semester 4 | 23.02.2024 - 30.06.2024 |
* exact semester dates may vary as they depend on the dates of the Professional Practical Training
** individual tutoring of Master thesis, no regular lectures